Bob Lindeborg's Adventures in Guatemala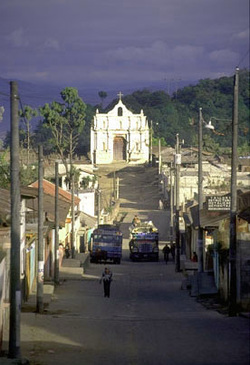 Antigua, Guatemala

Friday, September 30, 2011

Today is my final day as a volunteer teacher in the town of Santa Maria de Jesus. I will be making my farewells to the children at project El Jardin de Amor. Because it is my final day, there will likely be a party of sorts at El Jardin. That sounds wrong somehow! A few children may dance and I will be taking photos

October 1st is El Dia de Ninos in Guatemala. That is, the Day of the Children. It is not a major holiday, but school children may celebrate at their schools and there may be parties. Yesterday Guatemalan university students donated large sacks of food products, treats of all types, and bags of clothing to the children of El Jardin de Amor and other children of Santa Maria de Jesus. The students were particularly 'active' yesterday after enjoying candy and other sugary items.

Although living conditions may be severe as compared to much of the US, there is no end of socializing and play when time permits for the children. Many children work with their parents in the morning hours at farmer labor mostly. The children laugh and smile a lot. Some of the play may seem a bit rough by US standards. These kids, boys and girls, make a soccer ball fly like a missile. Some rough housing may take place between boys. And minor scrapes do occur. Pretty frequently I've seen a girl give a good slap or sock to a boy who may have been teasing or annoying her. All seems to pass quickly, however, and in a few moments the youngsters are back at play. There's also is quite a bit of affection among the children.
Today's time in class may be short because of my leaving. I will miss the youngsters who I have had the joy and honor of teaching. I will miss their frequent smiles and laughter and their affectionate nature. There will be a new volunteer teacher starting Monday. Most volunteer teachers, such as myself, receive a short training on teaching ESL. I hope that the new teacher will find their teaching experience with the indigenous children of Santa Maria de Jesus as rewarding and moving as I did

September 29, 2011

My volunteer assignment in the town of Santa Maria de Jesus comes to completion in a few days. Now that time is short, I wish I had planned for a longer assignment. I will miss the people of Guatemala, especially the indigenous children with whom I work. These children and their families who live in severe poverty have been unceasingly kind, gracious, and helpful. The children have been generous with their hugs. As I walk in the street of Santa Maria de Jesus, students greet me with hugs and their parents greet me with smiles. Courtesy is everywhere. Some students stay with me during recess or 'pausa' or after school to chat and look at photos I have. Yesterday three young boys shared words and phrases in their native language which is Kakchiquel. Almost all students speak Spanish to some extent as well. However, I have been told by some Ladinos that the manner in which the Indigenous people speak Spanish is not standard. All I know is that I understand the children well and their Spanish is a great deal more fluent than my own!

Lilian is one of my students. She is 12 years old. She does very well in English and responds to questions quickly. She is quite serious yet is quick with a smile and is extremely respectful. Lilian lives in severe poverty. Her mother died a few years ago because Lilian's father would not permit Lilian's mother to seek cancer treatment. He was concerned about who would care for the 7 children and himself. As a result, Lilian's mother sought medical care when it was too late. Lilian is responsible for herself and seven other children. Her father is gone for days or weeks at a time away at work. Lilian takes care of her entire family. She washes, feeds, and in all ways cares for her brothers and sisters. The family lives in a dwelling perhaps as large as a studio apartment in the US. They are somewhat fortunate because the dwelling's walls are made with more solid material than bamboo. The floor is simply dirt. The family sleeps on bunk beds. The area is also used for cooking. Wood is used to prepare the fire for cooking and the area can becomes very smoky. There is hope that Lilian may receive a private scholarship to attend a middle school in Antigua in the future. Her dedication to her studies, especially in light of her almost staggering family responsibilities for her family, is more than impressive. Lilian also has hopes for a marriage with a boy in whom she's interested but perhaps does not have the same interest in her. A marriage of such a young girl may not be so farfetched since Indigenous children may marry as young as 13. Attendance at school, especially the English class, which I and other volunteers have taught and others will continue to teach, is voluntary for the indigenous children of Santa Maria de Jesus Yet month after month, students attend to learn and I am moved.

Each child has her or his own story. Their stories share, however, one commonality and that is extreme poverty. Almost all of these l were born in Santa Maria de Jesus but many have never been to the relatively affluent city of Antigua which is about 25 minutes away by micro-van.

Tomorrow will be my final day as a volunteer through the auspices of International Volunteer HQ out of New Zealand in conjunction with Maximo Nivel, a language study and volunteer placement organization, in Antigua, Guatemala and other locations. The memories of the students, families, and other persons who I have come to know and who have been so gracious, will remain with me

September 27, 2011 AntIgua, Guatemala

Ten IndIgenous children attended my EnglIsh class yesterday in the town of Santa MarIa de Jesus. No form attendance Is taken. I was able to provIde some oranges whIch I thought mIght add to the dIet of the students. Fresh fruIt as part of theIr meals Is rare. Meals generally consIst of corn and rIce dIshes wIth no or lIttle meat. The students consIst of ages 9 or 10 to 16. The class Is conducted in my lImIted, but improvIng Spanish and also in EnglIsh.
NelvIn Is the oldest student In the class. He is 16 and does faIrly well communIcatIng In EnglIsh. LuIs Is 14 and a brIght boy .He makes hImself understood well and comprehends well. Rosa and JosefIna are both 10 and chatterboxes. JosefIna comprehends more than Rosa and always comes back wIth the correct response. Rosa Is challenged a bIt and requIres more assIstance. Often she Is reluctant to respond to questIons. William Is a polIte boy of 10. He often does not comprehend and has some dIffIculty rememberIng, but that doesn't stop hIm from tryIng hIs best. LIlIan Is 12 and a serIous lIttle gIrl. She pays close attentIon and never fails to comprehend or provIde a correct response to questIons. She Is one of the best at askIng questIons In EnglIsh as well. ErIck Is a brIght eyed boy of 11. He Is always smIlIng and does hIs math In EnglIsh well. Alvaro Is the lIve wIre of the class. He Is 11. He generally does well but must frequently be brought back In focus. Sury Is a serIous lIttle gIrl of 10. She Is not able to attend often. Jose LuIs Is 12 and one of the hardest workIng students. He enjoys wrItIng sentences on the whIteboard. He is also very shy and must be encouraged to respond to questIons. Yesterday our lesson consIsted of anImal names, questIons regardIng favorIte or least favorIte anImals. Days of the week, body parts, and math IncludIng addItIon, subtractIon, dIvIsIon. I had students ask questIons to one another as well. Today II plan askIng and havIng students respond to questIons regardIng anImals, days of the week and month, and more. Also planned is math In EnglIsh. I wIll brIng some fresh fruIt and snacks whIch the chIldren eagerly accept. I promise photos of my students when I return home. My Blackberry has been nothing but trouble. Sprint has a lot to answer to when I get home.

Many famIlIes have been affected by the Guatemalan Civil War whIch took place from 1960 to 1995. Hundreds of thousands were kIlled in the war. Thousands dIsappeared. PartIcularly affected was the IndIgenous populatIon, the descendants of the Maya. Santa MarIa de Jesus, the extremely poor town where I teach, was establIshed about 500 years ago. The town Is mostly Inhabited by poor IndIgenous people. I have heard that Santa MarIa de Jesus was a place where guerillas situated themselves. The story of the war is complex. Many IndIgenous people, albeIt not all, supported the leftIsts whose goal was to overthrow the dIctatorIal government. AccordIng to many, the mIlItary was brutal, enterIng vIllages and small towns InhabIted by mostly IndIgenous people and slaughterIng many InhabItants IncludIng women and chIldren . These military invasions left many women wIdows wIth many chIldren. A number of these women and theIr famIlIes emIgrated from Guatemala to other countrIes to escape the brutalIty and In fear of theIr lIves. Who won the war Is questIonable. Some say the left, others say the establIshment. Motives have been questioned, including the left's alliance with the indigenous people. It is important to note that Indigenous people were found in both factions, many supporting the left, others the right. Some government changes, perhaps for the better, dId take place. Please remember that all conclusions are my own and there are a number of perspectives on the war.
Because of my schedule, sIghtseeIng Is reserved for weekends. I hope to contInue my vIsIt to a number of churches and also to vIsIt a 'fInca' or coffee plantatIon where there Is a museum devoted to IndIgenous resIdents clothIng and culture.


Monday,September 26,

I begIn my sIxth day of teachIng at the volunteer non government funded El Jardin de Amor In the town of Santa MarIa de Jesus. I take a van or bus from the termInal whIch Is located perhaps 1/4 mIle from the volunteer and language center called MaxImo NIvel. The van Is packed wIth people returnIng to the town. It has a few stops along the way to pIck up or leave off passengers The fare Is about $.30. A person cannot be shy about physIcal contact because seats desIgned for two passengers generally accommodate three. After my mornIng Spanish lesson of two hours, I wIll leave for the town. I arrIve early because I am extremely dIrectIonally challenged and have lost my way several times iIn Antigua and surrounding areas. ThereIn lie some storIes. I walk a short dIstance from my stop In Santa MarIa de Jesus, where IndIgenous women are washIng clothes in a fountaIn area called La Pila, to El Jardin de Amor. Water Is very scarce In Santa MarIa. I brIng some food Items as well as pencIls and crayons to the chIldren today. SupplIes are scarce at El Jardin de Amor. I expect I wIll have 9 to 11 chIldren in my class of varIous age levels. Today's lessons wIll include anImal names and questIons related to theIr favorIte anImal, days of the week and month, and parts of the body. They are encouraged to respond In complete sentences. Most requIre a lot of help in respondIng to questIons, some more and some less. There wIll be some math in EnglIsh IncludIng addItIon, subtractIon, and multIplIcatIon. A few of the chIldren are very shy. Most or all the chIldren have spent much of the day already workIng wIth their parents. Many are tIred. The chIldren are very tactIle, touchIng me on the arm or back as they pass me. After fIfty mInutes, there Is 'pausa' whIch Is recess. They return to class for another 30 mInutes. That Is the end of theIr school day. No attendance Is taken. Attendance Is voluntary on the part of the famIly and chIldren.

FollowIng my teachIng. I return to Antigua and then to my resIdence. SIghtseeIng Is reserved for weekends. Yesterday, another volunteer and I vIsIted some churches IncludIng the tomb of Guatemala's only CatholIc saInt, Hermano Pedro, who lIved In the 17th century and establIshed care for chIldren and adults wIth severe illnesses. It was very movIng and there was a very spIrItual atmosphere at church where Hermano Pedro's tomb Is located FollowIng our tourIng, we returned to our resIdence. I studIed Spanish the remaInder of the day and also read about the lIfe of Hermano Pedro.

September 25, 2011
There are such extremes between the poor in this country and the middle class or wealthy. Most indigenous people are very poor, some abysmally poor. The town where I teach 10 children, ages 9 to 16, is very poor. Many indigenous people live in shacks, really, constructed of tin, pieces of wood, and bamboo. Families tend to be large or extremely large. One student I teach has 16 brothers and sisters. The parents are in their 40s. All children who are able to work help their parents. A few may come to school an hour or two in the afternoon although they are not required to do so and some indigenous people do not trust education. Many children suffer from malnutrition so I find myself bringing food items to my class to distribute each day. At home in the Bay Area I give cookies or candy or whatnot to the students I tutor quite often if their parents permit. Sometimes they accept these things, sometimes not. Sometimes with a thank you, sometimes not. Here in the poor town of Santa Maria de Jesus a child never refuses an offering of food and almost always responds with a thank you. There is a certain need in their eyes when I offer food, something I've not seen at home. I spent the weekend sightseeing a bit and someone offered me some school products to take to the children tomorrow. The family I stay with are middle, or upper middle class and consider themselves Ladinos which is very different in their minds to indigenous people. This part of the population carries some European heritage. Unfortunately, discrimination is a way of life for some people here. Although, I have met more liberal or progressive people who consider the ladino and indigenous paradigm as a construct. one educated told me that said that Guatemalans who call themselves ladino are indigenous in some aspect of their ancestry but wear different clothes. The class differences are very apparent, however of course, the observations I make and any conclusions are entirely my own.

September 22
September 19, 20, 21
Today, September 22, begins my third day of teaching and getting to know the children of Santa Maria de Jesus

These have been busy and exciting days. I began two hours of intensive Spanish language training each morning
with a wonderful teacher named Evelyn through Maximo Nivel which also was assigned me to my volunteer placement. On Monday, September, 20, I began my volunteer teaching in the town of Santa Maria de Jesus near the base of a volcano. It is a 25 minute curvy, rocky ride from Antigua by 'chicken bus' or van. I was to teach english to a group of students ages 9 to 16. The town of Santa Maria de Jesus is the home of impoverished indigenous families whose children do not receive much education. Some receive none and others receive a few hours daily in the afternoon. Malnutrition is rampant. Also, alcoholism and spousal abuse is not unusual. The students I teach come to class after their daily work with their families which takes place mostly in the morning. Most of the work is farm labor. Most indigenous families are very large. The marriage age is 13. One student, Rose, has 16 brothers and sisters. Her parents are in their forties. The smallest family among my students has seven children. Most of the children who come to class are eager to learn.

The education of these children takes place at Jardin de Amor, garden of love, which receive no funding except donations and help mostly by volunteers. There are two outhouses and a few rooms for classes. There is a play area with a few swings and a slide. There is also a playhouse which the girls like to use. In general, women are subservient to men in the indigenous population. Therefore, the number of female students are fewer than the male students. Classroom supplies are extremely limited. As a volunteer it is recommended that I play a few minutes of soccer with the children after class or perhaps push them on the swings. Interaction is important and is also a good opportunity to use english in a real context.




---