Daily Prayer for Peace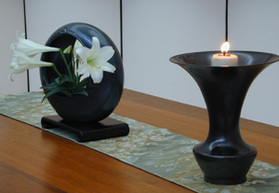 Peace Candle at the Temple
The Daily Prayer for Peace worship service is held at 1:00 p.m. central time, 365 days a year at Community of Christ Temple, Independence, Missouri.
​Become a people of the Temple –
those who see violence but proclaim peace,
who feel conflict yet extend the hand of reconciliation,
who encounter broken spirits and find pathways for healing.
Fulfill the purposes of the Temple
by making its ministries manifest in your hearts….
Let it stand as a towering symbol of a people
who knew injustice and strife on the frontier and who now
seek the peace of Jesus Christ throughout the world.
—Doctrine and Covenants 161:2a-b
World church resources