The Sacraments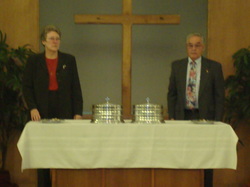 Sacraments are special ministries given to the church to convey the grace of Jesus Christ to not just his followers but to all God's children whom Christ yearns to touch with his compassion. Through the sacraments, God sanctifies common elements of creation to bless human life and to renew and form the church to seek the peaceful kingdom of God. There are eight sacraments in Community of Christ:
This is the list of sacraments we celebrate.
Click here
for more information about our the sacraments.
Baptism
Confirmation of Membership
Blessing of Children
The Lord's Supper (Communion)
Laying on of Hands for the Sick
Marriage
Ordination
Evangelist Blessing