I will sing to the Lord all my life;
I will sing praise to my God while I live.
Psalm 104:33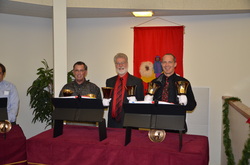 Bell Choir
We are a talented bunch!
We encourage the use of "the arts" in our worship services.

Our congregation is blessed with many vocalists and musicians.
Among our members are people with talents in drama and dance.
We use puppet ministry in our services.
Bell Choir
Celestial sound from a band of bell-ringers is a tradition at San Jose. Conductor Glen Elliott, who directs the choir, has led the group since the bells were purchased in 2001.
"I enjoy directing the bell choir because it is a direct expression of people working in harmony towards a common goal", said Glen.
The bell choir is composed of performers with varying degrees of musical education. Some of our ringers do not read music and others are professionally trained. The choir has three and one half octaves of bells. The bells are held lightly against the front of the shoulder, and then rung in a smooth, elliptical motion roughly the shape of a football. To dampen the sound, the bell is quickly brought back to the shoulder or in contact with the hand. Contact Glen if you are interested in ringing!
Praise Band
There is nothing quite like an upbeat praise band to stir the soul!
The praise band plays at worship services through out the year. The band brings comtemporary christian music to the congregation.
Puppet Ministry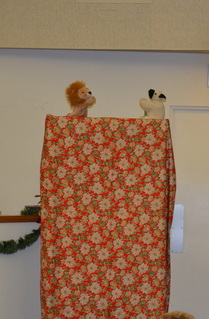 Follow the spiritual searching and quipping of Lanb, Lion, Hound Dog, and Mouse; the Jim Marshall Puppets , as the four friends seek to help each other understand what it means to follow Christ. Get a chuckle at the same time.

"Writing and performing the voices of the puppets gives me the opportunity to minister across the generations." said Jim Marshall.